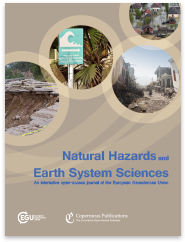 Executive editors: Maria Ana Baptista, Animesh Gain, Bruce D. Malamud, Paolo Tarolli & Uwe Ulbrich
eISSN: NHESS
1684-9981
, NHESSD
2195-9269
Natural Hazards and Earth System Sciences (NHESS) is a not-for-profit interdisciplinary and international journal dedicated to the public discussion and open-access publication of high-quality studies and original research on natural hazards and their consequences. Embracing a holistic Earth system science approach, NHESS serves a wide and diverse community of research scientists, practitioners, and decision makers concerned with detection of natural hazards, monitoring and modelling, vulnerability and risk assessment, and the design and implementation of mitigation and adaptation strategies, including economical, societal, and educational aspects.
Recent papers








Highlight articles










Notice on the current situation in Ukraine
To show our support for Ukraine, all fees for papers from authors (first or corresponding authors) affiliated to Ukrainian institutions are automatically waived, regardless if these papers are co-authored by scientists affiliated to Russian and/or Belarusian institutions. The only exception will be if the corresponding author or first contact (contractual partner of Copernicus) are from a Russian and/or Belarusian institution, in that case the APCs are not waived.
In accordance with current European restrictions, Copernicus Publications does not step into business relations with and issue APC-invoices (articles processing charges) to Russian and Belarusian institutions. The peer-review process and scientific exchange of our journals including preprint posting is not affected. However, these restrictions require that the first contact (contractual partner of Copernicus) has an affiliation and invoice address outside Russia or Belarus.